Travelling as we do, we get used to putting a few miles in, but last weekend was quite a biggie. Setting off from our native Manchester early on Friday morning we made our way down to Bideford, Devon. Felt a bit like going on holiday really, especially when we arrived to find Bideford is a very nice little seaside town, with the hot sunny weather adding to that summer holiday feeling. After squeezing our van down some very small cobbled streets we got into the venue (Palladium Club), greeted by promoter Ray & set about the usual load-in & soundchecks, with one eye on the tennis semi-final as Andy Murray made his exit from Wimbledon. We're not really into tennis but the locals seemed engrossed so we entered into the spirit.
The local support band was Hailing Star who did a fine job, also bringing a bus-load who shouted & supported their guys' set with great passion & enthusiasm, & rightly so. So we had our work cut out & glad to say we had a great response from their fans & the excellent support from Blaze's fans that we've been grateful for on this tour. Thanks everyone for the support & promoter Ray for the great welcome. On the way back to the Travelodge we were hooked in by a local kebab-house & Martin tucked into some pretty hot chilli sauce on his 'bab.... let's just say, there were repercussions the next day ;)
Leaving the seaside in ultra-hot conditions again, we made our way to Oswestry, very close to the border of England & North Wales, to play the outdoor Rock n Ride Music Festival (formerly known as Oswestry Music Live). Another long trip & we arrived around 3pm, with our headlining set-time planned for 4.30pm. It was cloudy when we arrived (no, this isn't a weather forecast but just setting the scene!), & within 20 minutes or so the heavens opened & the band playing before us (called Queensbury) took the stage in a torrential downpour. The festival square had all but emptied which was extremely unfair on Queensbury who'd made the long trip up from Swansea but on the other hand you couldn't blame everyone 'cos it really was bouncing down. Queensbury made the best of a very difficult situation (great singer by-the-way), & we started to prepare for our set, thinking this was going to be a wash-out. However, we were blessed as the rain stopped, the clouds parted & the hot sun came streaming through again. The square filled up as we got started & ended up a really good gig. Thanks to Keith for booking us, looking after us, thanks to all who supported us & to Liz from the Golden Lion who very kindly guided us to her pub (very cool place) & fed us free of charge. Big thanks also to our labelmates Decadenze for sharing their drum kit & very sorry we didn't arrive in time to see your set a little earlier in the day - we bad! Thank you Oswestry & thank you God for blessing us with sunshine!
We have a few days now before we travel down south again, to play the White Rabbit, Plymouth on Friday & then back up North of course for the amazing-looking SOS Festival in Manchester on Saturday. Have you got your tickets yet? - here's the place to go to get your tickets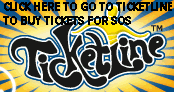 Hail! people of the UK! We're very happy to be getting around the country & to meet so many of you. Big thanks to you all.
Cheers!
Fury UK