Here at Fury UK HQ there's a strange thing occurring - no gigs!!?? What the FUK is going on???? We're usually out there, hitting the road, strutting our funky stuff across the country. We've been promoting our latest CD "Salvation" here, there & everywhere & now....nothing!? Usually those lervly people at Rocksector have us working our asses off - what do they expect us to do now?... get a life??!! yeah, right!
....well, in fact we know what's happening, he!he! We're having a little rest...yes, you heard us right ... a well-earned break. We've started writing for the next full album...it's a good while before we'll be ready to even start recording so it's a long term thing. Expect a release date probably early 2009 we think. Depends how it goes. We've got the rough outline of about 7 songs but we'll be doing whatever it takes to get it just right. That's what we did with "Salvation" & we hope the results speak for themselves...the reviewers seem to think so....sorry, sounded dead big-headed that & we didn't mean it that way, we're just proud of how the CD has gone down so far.
Got some gigs to come of course. Cracking little pub gig on 12th April at the Cricketers, Shaw, Oldham. Love it there, nice little room, stage & great folks. This is first time there with Adam & Martin so expecting a good 'un. Full pub set so expect FUK standards, newies & some shit-hot covers. Just that in April to keep us ticking over then in May we kick off with a stormer at the Butchers, Bolton on 2nd May...pretty unbeatable really as pub gigs go. Then on 4th May we've got a charity gig at Thatched House, Stockport, in aid of the Rainbow Family Trust, organised by our good friend Kaz. Starts about mid-day, loads of bands all day. We're on about 9.00pm.
Finally, in May we're onto new territory at the Fox, in Oswestry, Shropshire, on 25th - heard good things about this place so looking forward.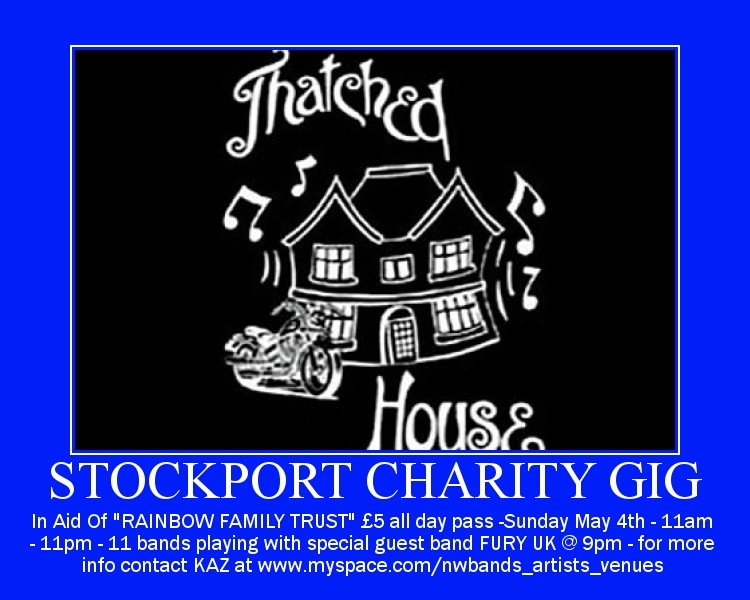 We've got gigs in June & July also, some newies, some regulars & all building up to those biggies at the Bull Dog Bash in August & the Rock of Ages Fest in September. Anyone wanting info on tickets for these just give us a shout on here. We're already taking a good posseeeee to Rock of Ages Fest & expect the same for the Bull Dog when the tickets are available. By the way, the early bird deal on prices for Rock of Ages Fest finishes on 31st March so better be quick!
Meanwhile, we've gotta plug the CD again - it's available online & in-store at Vibes Records & X-Records. See our MySpace profile for links.
So, that's what the FUK is going on!
CYA soon! Thanx a lot!
Fury UK xxx