We're proud to announce our place at this excellent event organised by the Saxon Forum :-
Friday April 23rd
The Alternate St.George's Day Bash
At The Green Man Pub & Hotel, Wembley, London
Event starts 2pm.
Fury UK stage time approx. 7.45pm for 75 minutes.
Net proceeeds go to Help For Heroes -
http://www.helpforheroes.org.uk
Tickets £8 Advance available from the Saxon Forum
HERE
or £10 on the door.
Check out this video which portrays the main motivation for the forum to organise this event -
http://www.youtube.com/watch?v=O4sA74Q0crg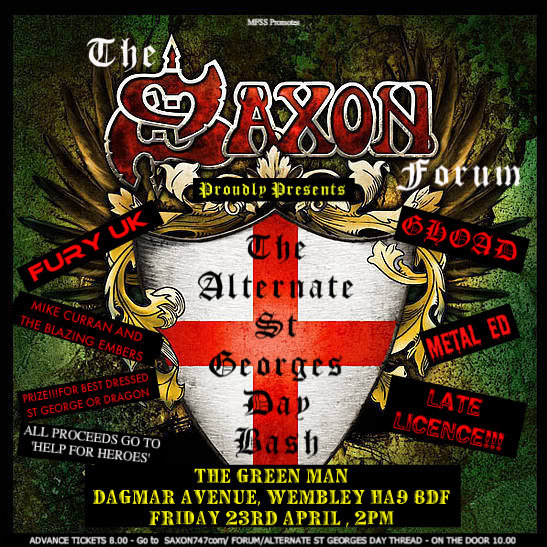 Saxon often play a St.George's Day gig but that's not been possible this year, so the members at the band's forum put this alternate event together which is endorsed by Saxon, & invited Fury UK to play. We, of course, are somewhat chuffed to be included! We're looking forward to celebrating St.George's Day with great rock n metal, beer, friends, & all raising money for a very worthy cause. Hope to see you there helping us celebrate!