We're pleased to welcome Hekz as the guest band for our Camden show on March 30th at The Purple Turtle. You can find Hekz at www.hekz.co.uk.
Tickets for this show are just £5 in advance from Ticketline. Click on the logo below to see details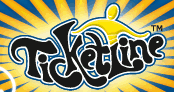 Or book by phone 08448889991.
Alternatively, £7 on the door.
Looking forward to seeing you there. Don't forget this show includes a preview of material from our forthcoming album. Recording starts in April.
Finally, a big thank you to everyone at the Blackpool gig last night, you were amazing & especially a big \m/ to the front row handbangers who were relentless in their energy & support - thank you.
Cheers!
Fury UK